Pipistrel Surveyor
The best aircraft for special services such as: infrared and classic aerial video and photography, 3D terrain mapping, surveillance, sea and border patrol, power/pipeline monitoring and more...

It has extremely fast cruise speed, excellent camera stability and low noise, superb range and characteristics even in harshest conditions such arctic ice, deserts and tropical regions.





The Pipistrel SURVEYOR Airborne Surveillance program features a special aircraft that is customized with different advanced sensory packages and control systems using the Pipistrel Virus SW 100 as a base airframe with either 35-foot or 50-foot wingspan and then fully customized for your mission requirements.

The Pipistrel Virus SW 100 is the winner of two NASA competitions for excellence in aircraft technology, the PAV 2007 Challenge and the GAT 2008 Challenge.
The Surveyor 35 is known for extremely fast cruise speeds and being stable throughout the camera operating speed range.
If longer flights are required the Surveyor 50 is known for its super-efficient operation, extremely low noise footprint and being able to stay airborne for more than 24 hours.

Using advanced composite technologies, the airframe guarantees corrosion-free construction and extreme durability even under the harshest conditions. More than 600 aircraft from these models fly worldwide over deserts, artic ice and tropical regions. The Pipistrel Surveyors' are truly versatile aircraft with excellent handling characteristics, low purchase and operating costs and high capability sensors.

The Surveyor 35 and Surveyor 50 are available through the Pipistrel Special Operations Program with three payload configurations or the aircraft can be fully customized and built to suit your specific requirements:

• Surveyor VIDEO Platform - perfect for day and night video recording. The system is equipped with a HD camera with digital zoom and an infrared camera both mounted on a gyrostabilized gimbal.
• Surveyor ULTRA HIGH RES PHOTO Platform – superb for 3D terrain mapping and aerial photography. The system is equipped with an ultra-high resolution (36 MP) photographic camera on a gyro-stabilized gimbal
• Surveyor LDC - Look down camera for cartography using an automated image tracking and alignment gimbal
• Surveyor Custom – start with our basic airframe and modify to suit your particular requirement and payloads.

MODEL 1




Equipped with a High-Definition camera with 28x digital zoom for day surveillance and a 640 x 480 infrared camera, the VIDEO platform is the perfect solution for video surveillance and video recording.

Typical missions include:

• Day and Night operations
• Border Surveillance and Control
• Homeland Security
• Traffic Observation
• Special Events Security
• Surveillance
• Moving target detection and tracking
• Convoy protection
• Fire/ Disaster Management
• Airborne Data Acquisition
• Pollution Control
• Crime prevention
• Wildlife Management
• Forest Management
• Disaster support
• Seaport monitoring
• SAR operation and victim localization
• Maritime/Costal Patrol
• Power/Oil/Pipeline Monitoring





Surveyor VIDEO Platform Sensory Package

Suitable for day and night video recording

HD camera (1280 x 720) with integrated zoom (28x) high sensitive sensor
Gyro-stabilized gimbal with vibration damping mount
FLIR sensor 640 x 480
Video digitalization module
Rugged computer with 13' touch screen interface, joystick and Windows OS
1 TB solid state HD for long endurance video recording – specifically designed for high operating altitudes
Vision Software
Stationary target tracking software
Moving target tracking software (OPTION – not included in basic configuration)
MODEL 2
Equipped with a 36 mega pixel camera and high vibration damping gimbal, the ultra-high resolution pictures are perfect to accomplish the following missions:
• Excavation volume measurements
• Real estate mapping for property management
• Forest Management
• Infrastructure Planning
• Post-natural disaster damage assessment
• Automatic 3D map generation
• Power/Oil/Pipeline Mapping
• Infrastructure planning
• Aerial photography
• Advertisement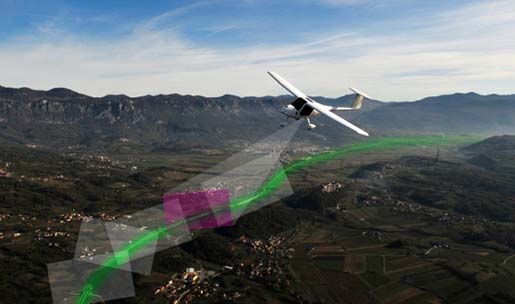 Surveyor ULTRA HIGH RES PHOTO Platform
Suitable for terrain mapping and aerial photography
Ultra-high resolution camera with 36 MP pixel low noise sensor
Extra bright lens F2.8 70 mm
Image acquisition module
Gyro-stabilized gimbal with vibration damping mount
Rugged computer with 13' touch screen interface, joystick and Windows OS
Optional second display
1 TB solid state HD designed for high operating altitude
Vision Software
Stationary target tracking software
MODEL 3
The model features:

• extremely light - 3kg without camera
• works with Nikon, Cannon, Hasselblad cameras (small and medium format cameras)
• tested on Pipistrel Surveyor 35 and Surveyor 50
• home pre-planning of aerial survey routes
• easy transferring navigation data into LDC via SD or USB
• automatic camera triggering above pre-planned spots
• screen confirmation of exposed pictures
• GNSS navigation
• electronic compensation of the camera direction for wind (crab angle)
Very fast development of digital high resolution sensors for small and medium format cameras brought a whole new era into vertical aero photography. Using the Surveyor means ECO attitude - professional results with low noise and gas pollution.
New GNSS and INS navigation systems enable to register precise location of each photograph what make postprocessing faster and more accurate. Our fragile ecosystem is changing fast due to aggressive urbane development and due to natural disasters like forest fires, earthquakes, land and snowslides, floods, hurricane winds. For planning and rebuilding purposes we must do aerial monitoring, documenting changes in natural and urban environment. The LDC is well suited for small and medium areas of aerial survey and for low budget monitoring projects. Perfect for digital orthophoto map production, suited also for photogrametric measurements.
HIGH QUALITY
• precision vertical aero photography
• 24–60 MP digital camera sensors
• metric calibrated lenses and cameras
• resolution from 0.03 m.
LOW COST
The LDC system consists of on-board navigation computer, camera gimble and software for aerial survey.
Supported functions are:
• planning of aerial survey routes and exposition points
• GNSS navigation
• pilot guiding during aerial survey flight
• triggering of the camera
• correcting the camera orientation




We offer customised platforms, adapted to your needs: aircraft suitable for:
flying at extreme altitudes (up to 30,000 feet),
with extra-long range (up to 4500 km) and
with endurance at cruise speed up to 30 hours.